Accidents and fatalities are at the top of towing industry leaders' minds. In late March 2022, a procession of hundreds of tow truck drivers honored the life of a fellow tow truck driver, Joe Masterson. A semi-truck hit and killed Masterson on the side of the road as he was assisting a customer. This is another example of where oncoming traffic fails to slow down and move over so a safe recovery operation can be conducted.   Success in the industry requires a focus on keeping your towing operators safe.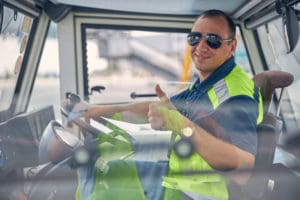 The U.S. Centers for Disease Control and Prevention estimates the risk of death for tow truck drivers is 15 times higher than other dangerous private industry jobs like welding and construction.
Industry leaders continue to remind towing companies to install and maintain sufficient warning and work lights. Warning and work lights alert drivers on the road that emergency vehicles and recovery teams are on the scene and encourage them to slow down and allow workers to have sufficient room. However, lights, cones, flares, and other safety equipment won't prevent an absent-minded driver from passing too close to the scene, often without slowing down.
In fact, it can be difficult for an oncoming motorist to assess what is happening on the roadside. Other vehicles, brake lights, or harsh flashing lights obscure visibility and can work against the objectives of enhancing safety. It's important that tow truck drivers do not rely on a false sense of security generated by these devices. They must always remain on high alert by continuously observing traffic and using safety protocols.
The attenuator is another piece of equipment getting attention from all industries with employees working on or near roadways. Attenuators act as a buffer between oncoming traffic and employees on the scene. Models can either be affixed to special trucks or towed to the location with simple hookups. Essentially, the attenuator stands guard and can withstand a head-on collision with an oncoming vehicle without moving its position. By doing so, everything behind the attenuator remains safe from harm.
See an overview of how attenuators work here:  https://www.youtube.com/watch?v=MsuUvDxSzTs
Help keep your towing drivers safe with quality equipment from Collins.
Collins has been an industry leader in the towing equipment industry for over 45 years. Our Hi-SpeedⓇ Dolly and Carrier Dolly systems provide towing professionals with lightweight solutions durable enough to get even large vehicles out of challenging situations and transport them safely wherever they need to go. Our products are designed with safety first to keep your employees safe while attaching and moving vehicles. Visit our website or give us a call to learn more about our products.