We've made some changes to make ordering and expanding your towing systems even easier!  Our new model sets are alphabet coded to correspond with the actual names of the sets!
Looking for a system that will tow the heaviest of vehicles without lifting them onto a tow bed?  Need to retrieve a vehicle from a tight spot?  The Hi-Speed® Dolly System is for you!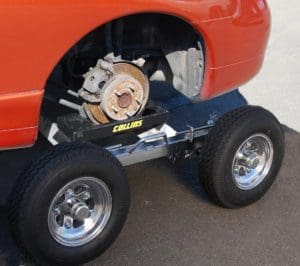 Hi-Speed® Dolly Systems are designated by "HSD".  While extremely lightweight, our Hi-Speed® Dolly systems can tow up to 4280 pounds on their own wheels (no tow bed necessary!)  The HSD requires only one person for set up and installation, and one wheel can be installed in 15 seconds or less!
Or, is it important for you to easily move a vehicle from the ground to the tow bed without harming the vehicle's body?  Need to be able to tow all kinds of vehicles, including those without hook points and motorcycles?  Choose our Carrier Dolly Systems!
Carrier Dolly Systems are designated by "CD".  These are perfect for vehicles with low ground clearance or nowhere to hook.  The vehicle simply rides the dolly onto the bed of the tow truck.  With our system, the winch connects only to the carrier dollies, not the vehicle itself.
And don't forget another important component…the Dolly Mount to help you carry and retrieve your dolly system from your tow vehicle!  Our mount is extremely flexible and allows you to load and unload the dolly system at waist level.
Dolly Mounts are designated by "DM."  For example, our Self-Loading 4.80 wheel Slanted Dolly Mount is "DM-SL4S."  Other items related to our dolly mounts follow this construct.  For example, the Gas Strut for the Self Loading dolly mount is "DM-GSS."
If you're ready to implement the safest, easiest, and most serviceable towing systems available, contact us today for more information.  When it matters, choose Collins.  Click here for more information!